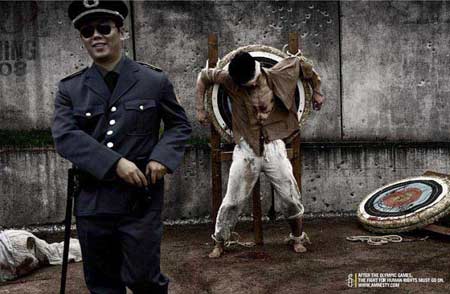 An advertising campaign commissioned by the human rights group Amnesty International has raised flames of anger throughout China. For previous discussions, see ESWN and Danwei.
Wall Street Journal has more details on the backlash, reporting:
Weeks before the Olympics put Beijing and the Games' corporate backers on the world stage, an advertising heavyweight has stumbled over the divide between how some view China and how the nation views itself…. Word of the human-rights campaign is now spreading through China, and TBWA and Amnesty International are disavowing the ads.
Chinese bloggers, spurred by a report in state-run media of the Amnesty campaign last week, are now calling for a boycott of all TBWA ads, among other measures.
And many in China are indeed very angry. But there are other voices as well; below is a translated internet post from Xinmin Net: (原文):