Two weeks ago, Henry Kissinger's new book "On China" went on the shelf. I have the honor of being asked recently to review the book.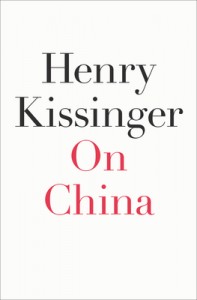 Henry Kissinger – preeminent American political scientist, diplomat, National Security Advisor and later concurrently Secretary of State in the administrations of Presidents Richard Nixon and Gerald Ford – requires no introduction. So I'll go straight to the book.
In my opinion, "On China" is destined to become a best seller and an important resource on China – on the level of Jonathan Spence's "In Search of Modern China" – for English readers. The book provides fascinating angles to so many chapters of Sino-American diplomatic history and has the character of an elder statesman telling not only a good story, but of imparting wisdom on a next generation of political leaders.
While focusing on 20th century Chinese history, the book also gave sufficient background on Chinese history to give context to current events – as well as a vision of what can be possible. Kissinger masterfully (but coolly) tells the story of China's struggles through its centuries of humiliation, starting with the Opium War and its attempts to resist colonialism and foreign invasions. The book traces the story of the Communist rise to power, and the immediate turmoils – both domestic and international – that put the nascent state and the Chinese people immediately to the test.
One of my favorite aspects about the book is the way it tells – with wit, insight and cogency – the hair-triggering geopolitical games the Soviet Union, U.S., and China played. Read more…