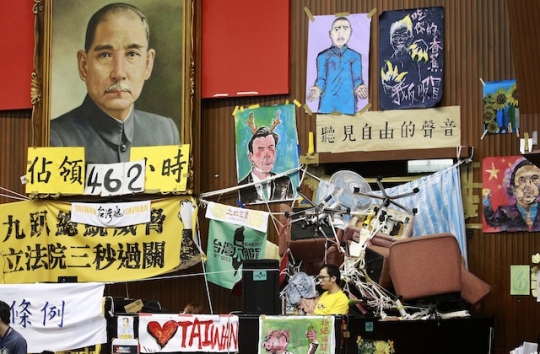 This is a belated post.  I have been busy with a project at work the last couple of weeks…  Still, I believe what I have to say is still relevant.
It appears that the student protest occupying the Legislative Yuan the last 2-3 weeks is coming to an end.  Depending on which media you read, the significance of the protest meant different things.
Some think this is just a purely economical issue.  The Taiwanese students are not happy with the trade agreements agreed upon but not yet signed into law between the Mainland and Taiwanese side.  This is understandable.  College graduates in Taiwan has had a tough time getting (good) employment this past several years (decade?).  Many – unfortunately – have come to feel protectionism – legal protection from globalism – is the best way to "compete" in the global economy.
However, this is oversimplification.   If you listen to the speeches and talks within the protest, you have no doubt this is about partisan politics between KMT and DPP – and also emotional politics invoked against the Mainland.  As I noted earlier in a comment in another thread, the main impetus of the protest is not about economics, but about the uneasy unsettled status of Mainland-Taiwan relations.  The real reason is unification/independence politics.
But if this is all there is to the protest, I'd not write this post – as there is not much for me personally to write about.  It's just about normal democratic politicking – built upon base politics, misinformation, distortion, emotional rants, hateful or divisive rhetoric, and what I might call ethno/religious/identity politicking. Read more…