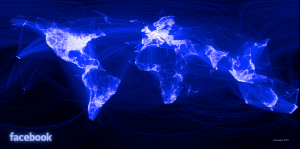 This is a map of Facebook users spread around the globe with each line representing certain weighed number of relationships inside the social network. It is a fascinating infographic. Click on it to see it enlarged. Chances are you will spend tons of time looking at it as I have just now. The map was generated in December 2010.
First of all, it comes as no surprise that both Russia and China are not lit on that map. Both countries have their own social network applications, and in China's case, Facebook is blocked.
We would expect South Korea and Japan to be much more lit. However, social media services such as those on cell phones are entrenched. If you have been to Japan looking at what teenagers are doing inside trains you will know what I mean.

If we look at the lit regions, I think this map shows how powerful the U.S. is in spreading American ideology and culture; how information is presented and consumed, and how social interactions are distilled down to individual features, all controlled by a single American company.
We have talked about in the past Google keeping the company's page rank a secret. Can foreign countries trust Google providing fairness in search results? Think of Google as a gatekeeper of information. Do foreign countries want their views biased by Google?
Influence aside, I think this is economic competition at a grand scale. The more users Facebook have, the more revenue it generates.
Make no mistake though in 2010 when Hillary Clinton declared U.S. policy on Internet "freedom," she is looking to help make all the unlit regions lit with Facebook, Google, Twitter, and other American web services.
When I look at this map, it struck me that the little guys have little chance!