Fact Checking NYT's Qi Chonghuai Jailed Journalist Story
Recently New York Times published a story on a jailed Chinese journalist Qi Chonghuai, and made some fairly severe, usual allegations (corruption, official misconduct, torture), and a new one – double jeopardy violation in resentencing Qi to more jail time for the crime he served 4 years already, because he vowed to continue to expose official graft.
Since it was written by Andrew Jacobs (someone I consider to be the grand wizard of NYT's China reporting), and given NYT's past record of biased reporting when it comes to China, I decided to dig into this story for details that might have been suppressed. Guess what?
1) Let's get the biggie out of the way – Chinese netters have confirmed Qi Chonghuai was convicted of raping a 10-year old girl in 1986. Does that sound like a righteous crusader to you? It appears Jacobs didn't bother to look into Qi's felonious past, only to regurgitate claims made by US government funded group HRIC without questioning their veracity: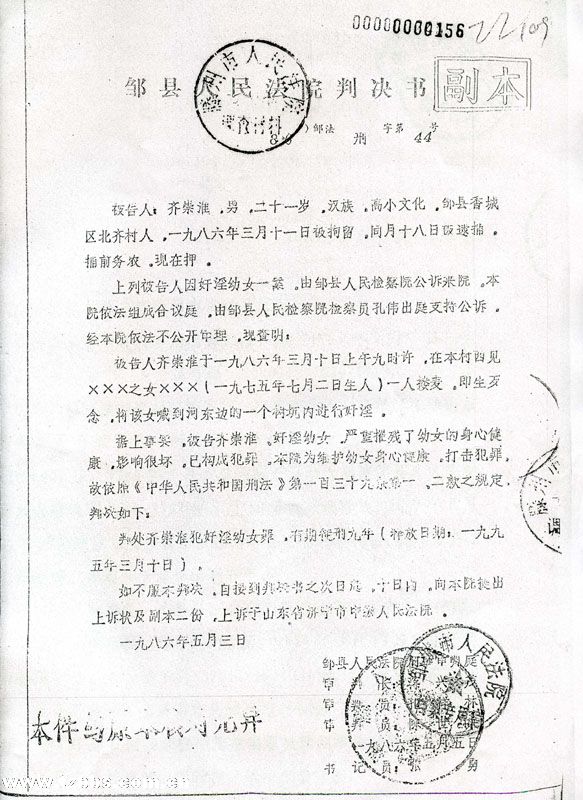 2) Jacobs reported Qi Chonghuai's recent trial constituted violation of double jeopardy. However according to case detail posted by Qi's defense lawyer, Qi's recent trial was not based on previously convicted crime, but due to a new victim coming forward earlier this year to report his case of extortion Qi committed in 2006:
On 3/28/2011, Mr. Zhang from a starch factory at Xinzhu Village in Dongguo Town, Tengzhou City, reported a case to Dongguo police. After the factory's corn silo collapsed on 4/1/2006, a man claimed to be Qi Chonghuai from "China Legal News" came with a partner for an interview, where they threatened to publish an inaccurate story and extorted 4000 RMB from the starch factory.

2011年3月28日,滕州市东郭镇辛绪村一家淀粉厂张某,到东郭镇派出所报警称,2006年4月1日其淀粉厂因发生玉米存储崩裂事件,后有一名叫齐崇怀的人自称是《法制早报》驻山东记者伙同他人来采访,并以在报纸上报道一篇失实的文稿相威胁,敲诈淀粉厂现金4000元
3) Jacobs also reported Qi Chonghuai was arrested after writing story exposing the lavish government office built by Tengzhou City officials on state-run media. But according to Chinese bloggers familiar with the case, Qi never wrote for any state-run media. Qi merely posted rumors on XinhuaNet and Tanya discussion forums (anyone can register and post) that were subsequently mentioned by the media:
He posted pictures on XinhuaNet forum, exposing the city's lavish government building

他在新华网发展论坛曝光了该市豪华政府大楼的照片
4) Does that sound like a legitmate reporter, posting on discussion forums? According to investigation of the 2007 case, Qi Chonghuau's only journalist connection is he operated a website chinalegalnews.com that claimed to be connected to a parent site legaldaily.com.cn. However according to Legal Daily website operator Yuan Chenbeng (袁成本), "Legal Daily" folded and became "Legal Daily Weekender" in October 2006, and Qi's work permit was withdrawn. In another word Jacobs ignored the fact at the time of Qi's arrest he was at a minimum using expired reporter credential:
Legal Daily did provide Qi Chinghuai with work permit in July 2006, who's charge was development of China Legal News in Shandong. In October 2006, Legal Daily folded and became Legal Daily Weekender, and Qi's work permit was withdrawn

《法制日报》2006年7月曾经给齐崇淮发过一个工作证,齐的职责是负责《法制早报》在山东的发行工作。2006年10月,《法制早报》停刊改为《法制日报·周末》,齐的工作证也被收了上来
5) Even Qi Chonghuai's defense lawyer admits Qi took money (Qi's racket was hint at large per-diem in exchange for not starting on-line rumor mongoring campaigns):
The few fees defendant had admitted to, is in reality a form of forced "bribe"

从被告人承认的几项费用来看,实际上是被迫接受了一种"贿赂"
And finally, did the Tengzhou city officials built themselves a lavish office building? According to a 2007 report of the case, Tengzhou official responded that the new city hall actually includes a convention center and corporate office leases. The city hall portion of the mixed-use building is fairly small. The reason a new city hall was built is because the old city hall is being condemned, and the valuable downtown lot was turned over for commercial development:
Regarding the office building, Yue Muxiang from PR department says it's hardly lavish. It's only new, Yue says the building may look big, but to accomodate 40 departments, 4-5 people has to tightly squeeze into one office.
Yue says, the former city hall was decrepet and condemned twice already, affecting staff safety. That's why they were forced to build a new city hall.

谈到被曝光的办公大楼,宣传部新闻科赵曰祥认为,大楼根本算不上豪华,只不过是新盖的。他说,这栋楼看起来很大,但要容纳40个部门。我们每个办公室都要坐四五个人,相当拥挤。
赵说,以前的市委市政府办公楼已经破败不堪,有关部门两次鉴定结果都是危房,已经影响人员安全,不允许继续使用,才被迫建的新楼。