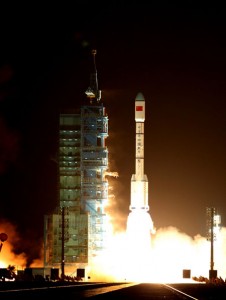 China has successfully launched her first Tiangong-1 ( 天宫一号, "Heavenly Palace 1") space lab module that would eventually dock with a series of other ones to form a space station. China Daily reports:
Zhang Shancong, deputy chief designer of the Tiangong-1, told Xinhua that the module carries special cameras which will take hyperspectral images of China's vast farmlands to detect heavy metal pollution and pesticide residue as well as plant disease.

Moreover, scientists on the ground will also conduct experiments on photonic crystal, a new material expected to revolutionize information technology, in the low-gravity environment inside the Tiangong-1 as these experiements would be extremely difficult to conduct on Earth's surface.
The Shenzhou-8 will be used to conduct docking experiments with the module in one month's time. If successful, China will be the third nation behind U.S. and Russia to have achieved this milestone. Continue reading China launches first Tiangong-1 space lab module →