Little over a month ago, China launched the Tiangong-1 space lab module and announced a planned next step of conducting space docking within two months. Launched couple of days ago, Shenzhou-8 has made a successful space dock with Tiangong-1. This is a major milestone for China's space program as this is a crucial step in building a space station.
China is the third nation to achieve this capability. The U.S. first achieved it back in 1966. China's solution is unique. The China Daily report quoted Gregory Kulacki, senior analyst and China project manager at the global security program of the Union of Concerned Scientists, a nonprofit scientific advocacy group based in the United States:
"China's pursuit of an original solution to space docking, that is based on their understanding of the experience of other nations, could lead to innovations or experiences other space-faring nations could find useful."
Russia and the U.S. are of course much more experienced. In 2007, two U.S. satellites were able to dock autonomously. That opened the door for configurable and upgrade-able satellites.
Russia was the first nation to do this. Russia's Progress cargo ships dock with the International Space Station without any ground control intervention. In 2005, the U.S.' $100 million DART mission to achieve autonomous docking failed.
Infographic of Tiangong-1 and Shenzhou-8 below is from Space.com.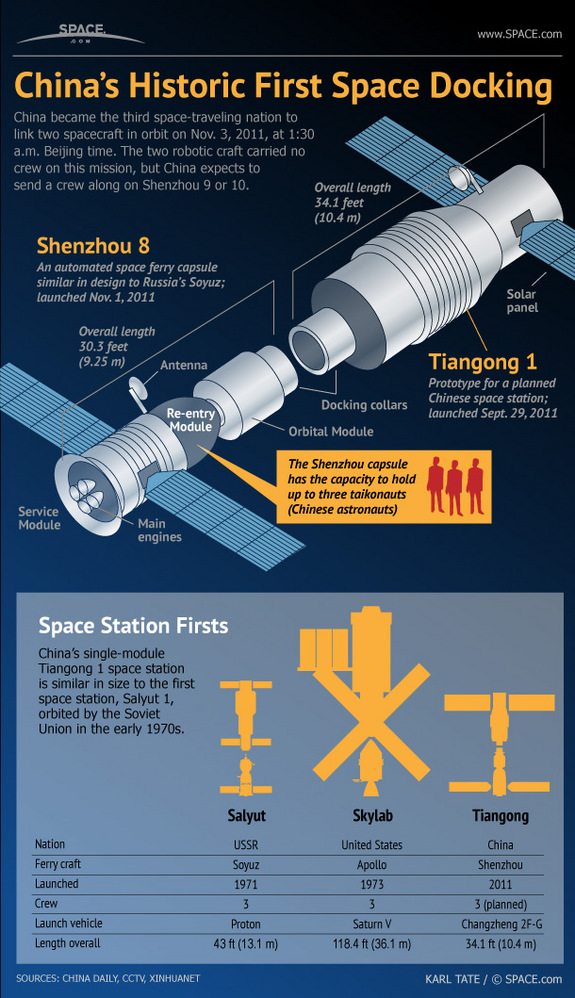 Source: SPACE.com: All about our solar system, outer space and exploration