A Follow Up on the Hong Kong Curriculum Protest – Who's doing the "brainwashing"?
@DeWang already addressed this topic, but I felt it appropriate to add a more visual perspective on this, and a simple commentary to the last blog entry simply does not suffice. I did an image search on the term "Hong Kong education protest", and here are just a few of the numerous pictures that appeared. The question that comes immediately to my mind is: Anyone notice all those little kids that came out to protest?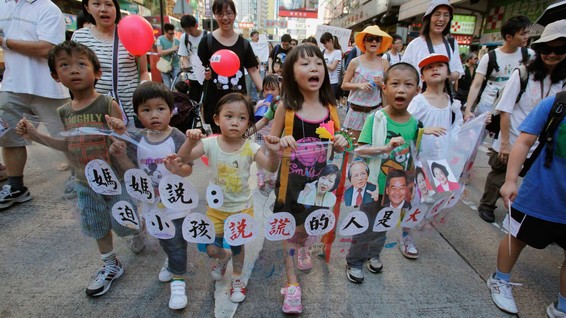 As I mentioned in my commentary, I find it hilariously hypocritical and ironic that those who protested against the supposed "evil chi-com brainwashing" made their children march, hold signs, and shout slogans. Some of those kids could not be more than 5 years of age, while others cannot even walk independently. Please don't tell me they can actually grasp the political issues at hand well enough to make an informed & voluntary decision on this, or any form of political participation. I wasn't born yesterday, although a few of these kids may not be far off.