Something to chuckle about #3
One can learn something new everyday. I have known for a while that hanging a flag upside down is a sign of distress, but never realized it could be applied to the Union Jack until now. Apparently, the UK national flag can be distinguished in its orientation by observing the placement of the wider white stripes. Oh well, I feel sorry for the poor staff member who arranged the table for the ceremony with visiting Chinese Premier Wen Jiabao. One cannot help but imagine the symbolism of this gaffe.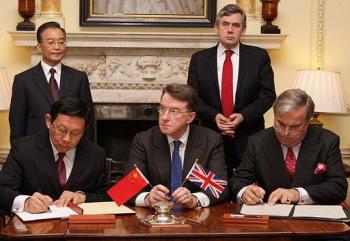 Of course, this incident is not unlike the subtle yet seriously mistaken form of traditional Chinese greeting shown in one of the official Olympic posters last year. Then again, we don't utilize that greeting in China much nowadays yet the British probably see their flag everyday.